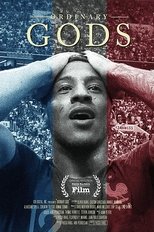 This first feature documentary from Writer-Director Pascui Rivas was produced by Fox Digital Studios coincident with the documentary series Phenoms, which is about young up-and-coming players around the world, sorted by field position.
According to Rivas, Ordinary Gods was meant to be a prestige piece**. Along that line, his film goes in a different direction and even belies its title. Instead of showing his 6 young players as powerful young gods of football, or soccer royalty who will wow us with talent, he instead lets us into their lives to reveal their human frustrations and fragility.
If you want to talk someone out of becoming a professional soccer player, have them watch this film. As in the movie Trainer!, which intimately follows the challenges of being a lower level German football manager, Ordinary Gods gives us the acne and warts of struggling footballers trying to find their way up. The players were around 20-23 years old when first filmed.
They suffer loneliness, language difficulties, injuries, inability to get playing time, sudden transfers, no transfers, and suicidal thoughts. One player isn't paid for 8-10 months. On the other hand, another player declines a big money transfer because he doesn't feel ready and doesn't want the pressure.
Throughout the film, it is obvious that footballers need to be incredibly resilient to stay in the game. But in addition, these players have careers because of the constant support of wives, girlfriends, and parents. The access to the players, families, agents, and mentors in this film is remarkable. However, because it feels like 90% of the movie is about struggle, the upbeat but rushed ending doesn't ring very true.
The players, their clubs, current Market Value (MV), and birth year:
My biggest complaint about the film is that rather than tell the stories serially, the film cuts back and forth between stories and locations in Britain, France, Uruguay, Russia, Germany, and Senegal. Often the scenes are very short and abrupt, so you have to piece the six narratives together in your mind as they unfold, along with the stories of their parents, wives, and girlfriends. Sometimes the voiceover from one story bleeds into the next one. At 107 minutes, the cognitive load was a bit tedious for my aging brain.

The soccer in the film consists of film clips from the players' youth and professional games. There are good snippets that convey the passionate fan bases for club and country. Two of the players played in WC 2018 (Tolisso for France and Zobnin for Russia).

The story of the Senegalese player is a very similar situation to what has been described in other films, where players are trying to get out of Africa to make it to Europe. Even playing at a low level in Europe is a success by African standards.

It's pretty difficult to find a soccer movie playing in a theatre, but fortunately for me, the Cinequest Film Festival brought Ordinary Gods to San Jose, California. For a Wednesday matinee, it was pretty well attended (40-50 people), and afterward, I asked a few women how they liked the film. I anticipated that the film, being so much about soccer, might have been difficult for the non-soccer audience. But, the non-soccer fans said that they enjoyed the character development. On the other hand, a football fan felt it was a little hard to follow. I'm glad I had a chance to see the film, and the women I spoke to all felt the film was enjoyable but a bit long.

In English, French, Spanish, Portuguese, Russian with English sub-titles
7 Soccer Movie Mom Rating = 7
EDIT Mar-15-2019: After I tweeted out my review, I was contacted by Director Rivas, who pointed out that i had made incorrect assumptions about Phenoms and his film. I had mistakenly written that the Zimbalist Brothers had created Phenoms, but they were instead contributors. Ordinary Gods and all Phenoms productions were from Fox Digital Studios. There was no implied conflict between Rivas and Phenoms, and I apologize if that was construed from what I originally wrote. I am also very thankful to Pascui Rivas for taking the time to correct me.
** EDIT Mar-18-2019: If you want to know what is meant by "Prestige TV", Kathryn VanArendonk wrote a tongue-in-cheek piece to define it. Her sign #12 cleared things up for me.
Resources:
Released: 2019-02-09 (Santa Barbara Film Festival)
Director: Pascui Rivas
Stars: The players listed above