The Year of the Pandemic has been wickedly bloodthirsty as it feasted on the faltering FC Barcelona. Internal scandals led to Barcelona's crunching 2-8 exit in the 2019-2020 Champions League quarter-finals, the messy Messi situation, and the attempt of Barça's fans to expel the board. Even if you're not a Barça fan, it's hard to watch such an admired club implode so quickly.
In these depressing times, it's uplifting to remember a period just a decade ago when Barcelona was Camelot: the greatest and good King Pep and his round table of Knights, led by Sir Messilot, who were all about the Football and the Team.
And that's why it's probably not coincidental that Take the Ball Pass the Ball just became available on Netflix. As the producers recently tweeted, "It's about Barça… when they were good."
The coverage
Take the Ball Pass the Ball is pretty long at 1 hour 49 minutes; it appears to be a first feature by Director Duncan McMath and is based on the 2012 book by his friend and football journalist, Graham Hunter. Hunter had written gloriously about Barça's 2008-2012 reign under Pep Guardiola, and McMath visualized it as a film with additional player participation.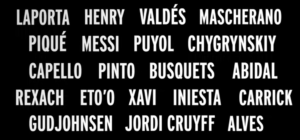 During an interview with DSpot, the creators said they interviewed 36 people. By the time they filmed, 5 years had passed. Media attention had waned, and players shared stories that knit together the shroud of greatness that surrounds Guardiola.
The filmmakers break 2008-2012 into 6 segments (time markers are approximate):
Wembley 2011 (2:50)

The Champions League Final versus ManU at Wembley on May-28-2011
Emblematic as the the peak of the greatest team ever

The Road to Wembley (9:02)

Starts with Barça's 2010 Champions League semi-final elimination by Jose Mourinho's Inter Milan (the eventual champions)
Mourinho takes over Real Madrid and spars with Pep, his former teammate, through the media
Eric Abidal's role in the Final in the face of recovery from liver cancer that was diagnosed in Mar-2011

The Barcelona Way (27:25)

The revival and reinforcement of tiki taka from Johan Cruyff to Frank Rijkaard to Pep Guardiola
The importance of La Masia, Barça's youth academy
Highlights the difficulty of learning Barça's style when a new player joins from the outside

The Making of Messi (45:48)

How Messi was discovered and why he is so great
How it is near-impossible to compile a list of his greatest goals because there are so many

The Local Hero – Pep Guardiola (1:00:50)

Pep's playing career
How Cruyff spotted Pep early
Why Cruyff recommended Pep to succeed Rijkaard instead of Mourinho

Life after Pep (1:33:49)

Pep burns out but maybe Xavi will eventually inherit the Barça mantle
What made Pep and Barça so great?
Through repeated statements in interviews, the film builds a case about what made that particular Barcelona team so great. It's more than just having Messi, one of the all-time greats. Pep built the team around Messi, but he also convinces players that if they do what he tells them to do, it will work and they will win. While a control freak on player diet and activities, he was also at that time a player's manager because he had only retired from playing a few years earlier and understood what that generation of players needed.
Out of favor Samuel Eto'o snidely remarks that the players were so good, they didn't need a manager. But to see professional players watch themselves, hundreds of times over, scoring a favorite goal, you recognize that being the best in the world takes a different mindset. The manager who can coordinate 20+ players to be in that mindset at the same time — has to be a magician.
In conclusion
The film is an excellent way to educate yourself on the Barcelona style of play. We can only hope it will still be there after the current board has wreaked its havoc.
There is of course a ton of soccer in this film. I had an issue with the first half-hour, where the game footage was a mash of split-second frame clips, too fast and short to see what was happening, and cued to convey emotion. I almost stopped watching because it felt like a commercial. And Mourinho as the bad guy is a meme today. But once past that point, the coverage was enjoyable and informative.
For a more historical documentary on Barcelona, check out Barça Dreams.
8 Soccer Movie Mom Rating = 8
Resources:
Released: 2018-11-09 (Spain)
aka Take the Ball Pass the Ball: The Making of the Greatest Team in the World
aka El Barça de Guardiola
In English and Spanish with English sub-titles
I watched this on Netflix
Director: Duncan McMath
Stars: Xavi Hernandez , Thierry Henry