It is incredibly unfortunate that media like the Washington Post and the NY Times downplayed the 2014 Garcia Report, with headlines saying that there was "no smoking gun". Virtually every page in this independent report from Michael Garcia's Investigatory Chamber details FIFA's corrupt methods in selecting the sites for WC 2018 and WC 2022.
I've reviewed several movies about FIFA corruption, but this document clearly lays out in business details and email flows, the operational procedures that comprise FIFA's corrupt practices, and how an investigator breaks it all down.
I learned that insiders with connections and influence make millions to set up broadcast rights, arrange friendlies, sell hospitality packages and tickets, or pretend to develop grass roots programs. Just an introduction to a FIFA executive or a government official can make a lot of money change hands. For an organization that is supposed to be a non-profit, this is a terrible charade.
Following are my notes from the Garcia Report. My notes are organized in a different order from the Report. The Garcia Report started off by identifying people who did not cooperate, and the use of football development programs as shells for corrupt solicitations. My notes are instead organized by the various 2018 and 2022 bid committees, so that it is easier to see the corruption by country. Page references are included.
There is some updated news since the Garcia Report was published.
REPORT ON THE INQUIRY INTO THE 2018/2022 FIFA WORLD CUP BIDDING PROCESS
Michael J. Garcia, Chairman Investigatory Chamber FIFA Ethics Committee
Cornel Borbély, Deputy Chairman Investigatory Chamber FIFA Ethics Committee
Garcia was appointed in Jul-2012 and issued the report around Sep-05-2014

Hans-Joachim Eckert, Chairman of the Adjudicatory Chamber, issued a misleading summary on Nov-13-2014
Michael Garcia refuted this summary to FIFA on Nov-24-2014 and publicly on Dec-17-2014
Michael Garcia resigned on Dec-17-2014

Cornel Borbély became chair but he and Eckert were terminated by FIFA on May-10-2017, leaving hundreds of cases still in flux.
The FIFA Executive Committee (ExCo) vote on the WC2018 and WC2022 was taken on Dec-2-2010
a list of the 24 ExCo members and how they voted if known is on pp 351-352
Update: The arrest of 6 members of the FIFA Executive Committee occurred on May-27-2015
People who refused to cooperate during the interviews by Garcia's Investigatory Chamber in Apr-2014:
Argentina – Julio Grondona (pg 48) – died jul-2014 prior to the release of the report (pg 336)
Spain – Ángel María Villar Llona (pg 45)
Germany – Franz Beckenbauer refused to answer written questions until he was temporarily banned from all football activities in Jun-2014 (pp 49-54).
People who did not respond to interviews by Garcia's Investigatory Chamber (pg 49):
Three either declined or did not respond to the request

Nicolás Leoz, Chuck Blazer, and Mohamed Bin Hammam

The Investigatory Chamber was unable to establish any contact with

Ricardo Teixeira, Jack Warner
Bid Committees
Spain/Portugal 2018
Spanish Federation (RFEF – Real Federación Española de Fútbol) President Ángel María Villar Llona came to an initial meeting and was belligerent, demanding to know (1) who had accused him, and (2) that the Chair recuse himself (pp 40-45). Subsequently he agreed to answer questions in writing, however the RFEF IT department claimed loss of emails and documents (pg 57)
Questions were answered by Jorge Perez Arias and the unnamed Legal Director (may be Keppa Larumbe??) for Villar Llona, the RFEF and the Spain/Portugal 2018 Bid Committee
Update: Angel Maria Villar Llona and his son Gorka were arrested on Jul-18-2017
Update: Villar resigned from FIFA and UEFA on Jul-25-2017
Australia 2022
Bonita Mersiades, then Australia 2022's Head of Corporate and Public Affairs of the FFA – Football Federation Australia is identified as "Australian whistleblower" in the report. She is characterized as unreliable although she led to other information that was helpful (pg 60). She undermined her reliability because

She talked to the media about the ongoing confidential Garcia interviews

She was publicly writing a book about the corrupt bid process

In book excerpts, she appeared to be personally biased

The Australian bid team led by Peter Hargitay sought to conceal the relationship with then ExCo member Franz Beckenbauer, which they had created by hiring his associate Fedor Radmann

The FFA had no Aussies on the ExCo
"Subsequent devices employed by the bid team and its consultants were seemingly aimed at hiding ties with Mr. Radmann while taking advantage of his influence over Mr. Beckenbauer to further the bid strategy. " (pg 76)
Hargitay was on England's WC 2018 bid team for 6 months beginning Nov-2007. Prior to the hiring, he had announced that whichever bid hired him would benefit from his relationship with Sepp Blatter. A Nov-9-2007 article in the Financial Times quoted Mr. Hargitay as follows:
"Forget marketing, forget promotion. . . . The target audience is not the world. The executive committee of Fifa is 24 men, one of whom is Sepp Blatter. . . . It's very important, you know, to be close to Blatter, to make sure he values the bid that comes his way. I don't think that in the consulting business anybody has better access and better knowledge of the 24 men than Markus [Siegler] and me. We have built a level of trust with a lot of them. Over the years you develop, you might even say, friendships." (pg 77)

Hargitay then moved on to the Australia bid team in Oct-2009 (??)
The report gives email evidence of Hargitay defying the rules of the bidding process by sending emails to Sepp and others, denigrating the Qatar bid, and copying FFA officials.
NB: Peter Hargitay and his son were executive producers of the film Goal.

Beckenbauer is frequently represented by his friend Fedor Radmann

Radmann and fellow German consultant Andreas Abold never accepted interview requests
As noted above, Beckenbauer refused to respond until he was banned
Update: Beckenbauer was eventually charged for bribes related to WC 2006 but the trial was dismissed in Apr-2020 due to the pandemic & 15 year time limit.
Belgium 2018
England 2018
England's bid team was led by Andy Anson
Trinidad & Tobago – Jack Warner

England's bid team was led by Andy Anson
Warner "showered" England's bid team with inappropriate requests (pg 116)
In May-2009, Warner requested a job for his banker's son. Richard Sebro. The committee placed Sebro with 6 weeks at Tottenham, then Wembley, and Aston Villa just 17 days before the vote
Warner requested the FA schedule friendlies for his club team Joe Public and the T&T Youth teams, with all expenses paid by the FA.
Warner set up a media event on Feb-27-2010 where Trinidad journalists reported the FA was going to fund $500k towards a football pitch at Warner's birthplace Longdenville (pp 111-116)
Warner had the FA pay $55k to sponsor a 160-person dinner at the CFU annual congress

OFC – Oceania Football Confederation and Reynald Temarii
Lord David Triesman was Chair of the FA and the bid until May-2010 and testified to the many unethical requests he received (pp 128-129)

Lord Triesman resigned after being secretly recorded complaining about the requests (pg 137)
Brazil – Ricardo Teixeira told Triesman to "You come and tell me what you have for me."
Trinidad – Jack Warner asked the FA to fund a school that would serve as Warner's "legacy to the T&T football authority". Warner also asked him to fund ~$500M pounds for media rights to show the World Cup in Haiti public venues (media rights that Warner likely owned).

The Dingeman report showed the actual requested amount to be $1.6 million USD (pg 134)

Paraguay – Nicolás Leoz asked for knighthood.
Update: The NYTimes obituary of Nicolás Leoz details all his corruption

Thailand – FAT Football Association of Thailand president Worawi Makudi asked to schedule an international friendly with media rights to go to him (pg 130).
Update: Makudi was banned 5 years in Oct-2015 but this was subsequently reduced to 3.5 years

The FA commissioned James Dingemans QC to conduct an independent investigation around the England bid. After 2 weeks investigation, the 200 page Dingemann Report was submitted to FIFA on May 27, 2011 (pg 131).

The next day, FIFA Head of Security Chris Eaton refuted all of its conclusions as inconsequential and not enough to be forwarded to the FIFA Ethics Committee. It appears he only consulted a few media articles and journalist to reach his own conclusion (pg 140)
Subsequently Jerome Valcke and Sepp Blatter announced that all 4 ExCo members had been exonerated of Lord Triesman's allegations. FIFA also published a "Dingemanns Report Summary"
However, Garcia's Investigatory Chamber felt that serious violations of bidding rules and the FIFA Code of Ethics (FCE) had occurred (pg 142).
Japan 2022
The Japan bid team under CEO Kohzo Tashima violated the bid rules by gifting ExCo members and their spouses items representative of Japan but valued at up to $1,200 each, which violated the FIFA guidelines of $100. These facts were only found by examining Japan's financial records, as the ExCo members themselves never reported the gifts even though they were required to do so. (pg 153)
Korea 2022
On Nov-4-2010, ExCo VP Mong-Joon Chung sent an email to fellow ExCo members announcing a Korean $777M USD "Global Football Fund" for development activities. Valcke subsequently ruled this was not an attempt to influence the Korean bid, as the VP was not a KFA Korean Football Association official. (pg 156)
The Garcia Report notes that offering this fund outside of the bid book meant it was not legally binding but it created the appearance of an offer of benefits (pg 164)
The England bid team said that Chung had agreed to trade votes with them (pg 330)
Update: Chung Mong-Joon, heir to the Hyundai fortune, had planned to run for FIFA President in Feb-2016 versus Gianni Infantino. But on the strength of this report, Chung was banned for 5 years in Oct-2015. In Feb-2018, the CAS reduced this ban to 15 months.
Qatar 2022
On Jan-19-2010 the Qatari Emir met in Rio with Joao Havelange and ExCo members Julio Grondona, Nicolas Leoz, and Ricard Teixera

In his replies to written questions from the Investigatory Chamber, Grondona failed to disclose this meeting and any gifts presumably received

The Qatar bid appeared to be funded by the Qatar government. Hassan Al-Thawadi, leader of the bid team, was also the General Counsel of the sovereign wealth fund Qatar Investment Authority (QIA)
Thailand

Hong Chye "Joe" Sim was a Singaporean friend of Worawi Makudi who frequently traveled in Thailand's delegation, and had procured McDonald's as a Thai FA sponsor. In return, his Venture Sports & Events Co Ltd was an exclusive sales agent for the WC 2014 hospitality program and arranged hospitality for other events. In Aug-2010, along with Thai football development, he simultaneously inquired about the purchase of LNG liquefied natural gas from Qatargas. In Dec-2010, he travelled with Bin Hammam and Makudi to visit the Iran federation in Tehran (pg 180).
Update: Joe Sim passed away in 2018 and his daughter runs his restaurant business

France

Although he had promised to vote for the USA bid, Michel Platini announced that he had voted for Qatar. Platini had met with President Sarkozy on Nov-23-2010 to discuss Qatar's prospective €50m purchase of PSG, and launching what later became BEIN sports channel. Subsequently Qatar also agreed to pump €150m per year into Ligue 1, until 2016. However, the Garcia Report found no evidence to link Platini's vote to Qatar's investments in France (pg 182).
Update: In Dec-21-2015, Michel Platini and Sepp Blatter were banned from football for 8 years. In Feb-2016, this was reduced to 6 years. Platini's ban may subsequently have been reduced to 4 years.

Cyprus

ExCo member Marios Lefkaritis was one of the wealthiest men in Cyprus. In Sep-2011, his Lefkaritis Group closed a deal on a €32 m strip of land to a Hungarian company backed by the Qatar Investment Authority (QIA). The QIA planned to build a hotel there under Lefkaritis management. Lefkaritis claimed no knowledge of the QIA ownership, and the Garcia Report found no basis for further inquiry (pg 184).
Update: Marios Lefkaritis withdrew from FIFA ExCo and UEFA in Apr-May 2017

Argentina

An email from Guillermo Tofoni to David Dein (ENG) on Nov-26-2010 indicated that "Qatar offer them a big infrastructure" (them meaning perhaps CONMEBOL). However in testimony to the Garcia Report, he maintained the problem was with his English, and that he was referring to the infrastructure to be built in Qatar. The Garcia Report found no basis for further inquiry (pg 186).
Update: Guillermo Tofoni continues to run his match agent company, World Eleven (W11)

Consultant Sandro Rosell  (his full name is Alexandre R. Feliu)

The Qatar Football Association (QFA) hired Rosell in 2008 to do a feasibility study on a Qatar bid, paying him €2,000 per day. Rosell had worked with the Aspire Academy, had headed Nike in Brazil, and was a close friend of Ricardo Teixeira. Rosell became president of FC Barcelona in Jun-2010.
In Jun-2011, Rosell wired £2 million to an account held in the name of Mr. Teixeira's then-10-year-old daughter (pg 188)
On Dec-10-2020, Qatari Sports Investments (QSi) announced a 5 year investment and sponsorship of FC Barcelona
Update: Rosell was arrested in May-2017 and held until Apr-2019, when he was acquitted

Consultant Amadou Diallo of Ivory Coast

Diallo was an apparently unpaid consultant to the Qatar bid team from Feb-2010 to Oct-2010. He sent emails to the bid team requesting favors for friends of ExCo members. The Garcia Report apparently only had emails in one direction, and not any replies from the bid team. However, the report notes that unpaid consultants can be used to circumvent the bidding rules, as they are not under contract. (pg 192)
Update: I couldn't find any info about Amadou Diallo because there is now a player with the same name.

Aspire Academy

Aspire was founded in 2003 in Qatar and run by Exec Director Andreas Bleicher. The bid book pledged to develop grass roots initiatives in the 2 countries with ExCo members: Thailand's Worawi Makudi and Nigeria's Amos Adamu. Neither project went forward after the vote (pg 195).
Aspire also invited youth teams to come to the Aspire academy in Qatar with all airline and hotel provided

Financing and Contractual Arrangements (starts at pg 200)

The bid team used friendlies to benefit ExCo members (pg 199-200)
A match on Nov-17-2010 was arranged in be played in Qatar between Brazil (CBF) and Argentina (AFA).
The financial and football organizations

SMFG Swiss Mideast Finance Group

wholly owned by the Qatar business conglomerate GSSG
SMFG provided the Qatari Federation (QFA) with $7M to finance the Nov-17 match
SMFG paid Kentaro AG $8.4M to secure CBF and AFA participation
Kentaro owned exclusive rights to CBF games
Kentaro paid $2M as an "Introduction Fee" to a Singaporean entity Business Connexion Services Pte Ltd (BCS) which was reportedly linked to Syrian businessman Wael Ojjeh.

CBF Brazilian Federation

Beginning in Jan-2007, Saudi Arabian holding company Dallah Albaraka Group (DAG) had exclusive rights to 24 CBF friendlies. DAG (repped by Moheydin Kamel) was to pay all expenses and CBF would receive $1.15M per game.
As part of this contract, International Sports Events Ltd. ("ISE"), a DAG subsidiary based in the Cayman Islands, would pay New Jersey company Uptrend Development LLC €345,833 per match or €8.3M
Uptrend was wholly owned by Sandro Rosell

AFA Argentine Federation

Julio Grondona testified in writing that he was approached for this game by Punto Soccer Ltd (PS Ltd) represented by Mauricio Peveralli
PS Ltd is a subsidiary of World Eleven SRL (W11) represented by CEO Guillermo Tofoni
AFA was to receive $1M for the game net of taxes while PS Ltd paid all travel expenses

In pp 202-212 the Garcia Report followed the money:

Kentaro transferred $1.15M + €345,833 for CBF to an ISE account in the Cayman Islands
In order to hold the game, Bleicher told Rosell to have Texeira approve the match (pg 206)
Kentaro transferred $2M for AFA to match agent World Eleven

$2M = $1.6 AFA appearamce fee + $0.4M W11 Commission Fee
However, only $1M went to the Argentine Federation AFA

The cost of Texeira's presidential suite for 4 nights at the Four Seasons was ~$5,500 per night plus incidentals, for a total of $24K, was paid for by the Bid team, not by the QFA

CAF Congress

In Jan-2010, the Qatar bid team paid the CAF $1.8M to exclusively sponsor its Jan 29-30, 2010 Congress, paying for travel expenses of all delegates attending in Angola. The deal appeared to be brokered by ExCo member Issa Hayatou (pg 215). The bid team made its presentation to the Congress (pg 216).

Nigeria – Amos Adamu – 1st African Legends Gala Dinner

At the CAF Congress, Samson Adamu, son of then-ExCo member Amos Adamu, asked bid team Deputy CEO Ali Al-Thawadi for $1 million to sponsor the Legends Dinner. The money was to be paid to Adamu's nascent company Kinetic Sports Association.
By Feb-22-2010, Samson Adamu had increased the Sponsorship Fee to $1.275M
By Mar-11-2020, the bid team had backed out, Samson thought because of his relationship to an ExCo member (pg 226)
The bid team said this deal was not executed because it would violate the bid rules. These events were first exposed in a Sunday Times sting investigation published Nov-18-2012.

Subsequently the Investigatory Chamber received an Affirmation purportedly from journalist Farayi Mungazi witnessing the hand-over of a cash payment from Al-Thawadi to Adamu. The Investigatory Chamber accepted Mungazi's testimomy that this Affirmation was fake (pg 229).

Samson Adamu told the Garcia Report that he had hoped to profit 30-35% from the dinner, which he would share with fellow organizers Mr Mungazi (who put together a magazine/booklet for the event) and Ms Laila Garga (a former colleague at sports rights marketing company SportFive) (pg 225)
Other sponsors were obtained (paying cash), and the dinner was held Jun-08-2010 in Johannesburg at a financial loss by the organizers (pg 228)
Amos Adamu was banned for 3 years in 2010 and 2 years in 2017

Qatar – VP Mohamed Bin Hammam

The Ethics Committee conducted proceedings against Mr. Bin Hammam in 2011 and 2012.

numerous listings of cash payments for presidential votes are listed on pg 233

He appealed a previous lifetime ban from the Ethics Committee in 2011 to CAS and secured a reversal. The CAS reversal was because Warner refused to testify (pg 235) after 3 of Warner's companies/son/friend received $1.2M from Bin Hammam's company Kemco (Khalid Electrical and Mechanical).
In the Dec-3-2012 Bin Hammam Report, the Investigatory Chamber concluded that he had engaged in a pattern of misconduct, and banned Bin Hammam for life a second time. He did not appeal the Dec- 2012 ban (pg 231)

Reynald Temarii was originally going to step down and allow the OFC VP to vote on the bids. But just prior to the vote, Bin Hammam offered to pay Temarii's legal expenses. This caused Temarii to retract his promise, OFC lost its representation and its planned vote for Australia, and this strengthened Qatar's bid

Qatar Whistleblower

After the vote, a female who said she was a media specialist on the Qatari bid sent the WSJ and the Sunday Times documentation alleging corruption. These allegations were investigated by Parliament. But after a lot of back and forth with FIFA, she recanted everything on Jul-1-2011 (pp 249-258)
Update: As mentioned in Professor Steven Bank's 2018 paper on "Reforming FIFA", this journalist was Phaedra al-Majid. She is also interviewed in the film The FIFA Family.

However, the Qatar Whistleblower came forward again in Dec-2012, contacting Michael Garcia and recanting her recantation. She said she had recanted because of threats from Qatar
The key point of the Whistleblower's testimony was that Bleicher, Amadou Diallo and Hassan Al-Thawadi entertained one-at-a-time Issa Hayatou, Jacques Anouma, and Amos Adamu in a hotel room at the AFC Congress in Angola. She was there to serve as translator as they offered each ExCo member $1.5M for their vote. However, the Adjudicatory Chamber determined that Bleicher was not in Angola at that time and discarded all her testimony (pp 258-271).

Blatter's assistant Christine Maria Botta

Christine Botta was Sepp Blatter's assistant and her husband Charles Botta had a Swiss company that consults on real estate projects, including the production of a handbook of specifications for WC events and stadiums. Botta put her husband in contact with Al-Thawadi to pursue a business opportunity with the Qatar bid, which did not bear out but was inappropriate contact.

Chilean Football Federation – President Harold Mayne-Nicholls

Chair of the Bid Inspection Group with a reputation for being incorruptible
On Sep-19-2010, he sent emails to Andreas Bleicher seeking his son and nephew's admission to a training period at the Aspire academy, a tennis coaching job for his brother-in-law, a Chilean U17 team visit, and visits by 6 youths from different Chileano clubs.
The requests were postponed due to the bid process, and subsequently the Bid Evaluation Report was critical of Qatar's bid (pg 287)
Update: In Jul-2015, Harold Mayne-Nicholls was banned for 7 years. In Apr-2016 the FIFA Appeals Committee reduced the ban to 3 years. He appealed to CAS and Jul-14-2017 CAS reduced the ban to 2 years. He returned to football in May-2019 by becoming an exec at the Chilean club Colo Colo.
The heat issue
In Jun-2008, Doha did not make the 4-bidder shortlist for the 2016 olympics, partially because Qatar suggested moving the Games to October
FIFA's Bid Evaluation Report noted that Qatar's temperatures in June-July range from 31-37 °C (88-100 °F).

The Garcia Report (pg 294) calls out Chair Harold Mayne-Nicholls for failing to address this while simultaneously asking for the personal favors listed above.
Belgian ExCo member and FIFA medical chief Michel D'Hooghe – see next section

The bid was accepted under the Jun-Jul schedule and changed later

Qatar claimed they would implement pioneering solar cooling mechanisms
The ExCo said the matter of weather never came up until after the vote
In Oct-2013 FIFA announced it was considering rescheduling WC 2022 to January
In Mar-2014 the ExCo extended Fox's USA-Canada broadcast rights to 2023-2026 to offset the conflict of the new date with NFL programming

Belgian ExCo member and FIFA medical chief Michel D'Hooghe

D'Hooghe said he had no opinion on playing in the heat and did not issue his report until after the vote
his son Dr Pieter D'Hooghe was later awarded a position at the Aspire-related hospital Aspetar

He was already a long-time orthopedic surgeon for FC Bruges (aka Club Brugge) specializing in foot-ankle-knee-hip injuries
The Garcia Report determined there was no proof he was offered this job because of the bid
Update: Pieter D'Hooghe has remained at Aspetar where as of Dec-2020 he is CMO and Chief of Surgery

the bid team was at the time of the vote arranging for a job for his friend's son (pg 294)

Lalemant NV/Belgium Commercial Director Rik Rammant
Bleicher asked Al-Thawadi to nominate Lalemant NV as respective ship agent / representative in the port of Zeebrugge/Belgium for the vessels coming from Qatar (pg 300)
On Nov-29-2010, Mr. Rammant wrote to Al-Thawadi and Bleicher, "I want you to know that my family and myself are supporting the Qatar bid 2022 more than you can imagine and we sincerely hope that you and the whole of Qatar will be awarded the organization of the World Cup 2022. Qatar deserves it."
However, a few days after the vote, the Qatari agent declined to work with Lalemant (pg 304)

In Apr-2010, Viacheslav Koloskov, an old friend, former ExCo and representative of Russia 2018 gave D'Hooghe a painting in a lunch meeting where the CEO of Russia 2018 also attended
The Garcia Report forwarded the concerns about Michel D'Hooghe to the Ethics Committee (pg 310)
Update: The BBC reported that the FIFA Ethics Committee cleared D'Hooghe of all charges in Feb-2015
Football Development
In the past, smaller FIFA nations have often traded votes for development funding, ostensibly to be used to develop grass roots football facilities, academies, and/or programs. Sometimes the funds are actually applied to that purpose, although generally they seem to end up in personal bank accounts.
OFC Oceania Football Confederation

Starting in Apr-2010, the OFC sent MOUs Memo of Understanding with the England FA to fund $1.75M NZD, half of it for travel, and the rest for equipment and a new artificial pitch at the OFC Technical Centre. The MOU was positioned as an extension of an existing 2006 MOU. As the bid vote grew nearer, the OFC asked to extend the new MOU past 2014 to 2018, and added in $65,500 NZD annually for OFC travel to England for their "Just Play" grass roots development program (pg 119-124)
OFC President Reynald Temarii was captured on camera in Oct-2010 negotiating for development funds from the FAA for his ExCo vote. FIFA suspended him, which barred him from voting. In May-2015, he was banned for 8 years for accepting €305,640 from Qatar's Mohamed bin Hammam in Jan-2011 (pg 81-83).

CONCACAF

On or around Sep-23-2010, the FFA paid AUD $500,000 to CONCACAF to fund a Trinidad & Tobago Centre of Excellence COE, but these funds were commingled with Jack Warner's personal funds, as the center was built on land he owned. Warner's original demand was for USD 5M to be supplied before the bid vote (pp 84-85)
After the payment, Jack Warner and other T&T reps in the deal stopped responding to the FFA (pg 88)
Earlier, the FFA also paid T&T USD $89K for a 34-person T&T delegation to travel to Cyprus for a U20 friendly with Australia in Aug-2009
Jack Warner was suspended in May-2011 and resigned as T&T Prez in Jun-2011.
Update: Jack Warner was charged by the FBI in May-2015 and is still fighting extradition.
Update: In Jul-2019 a US court ruled Jack Warner must pay a $79M judgment. He was banned for life by FIFA in Sep-2015

African Federation CAF

In Sep-2009, Hargitay used AusAid as a framework for offering AUS $4M development aid to Cameroon, Ivory Coast, Egypt, and Nigeria, who all had members on the ExCo.
Because info about this leaked before the vote, this aid did not happen.
Vote-Trading
The decision to select bidders for both the 2018 and 2022 World Cup tournaments simultaneously made the voting process subject to collusion and vote-trading (pg 311)

Once 2018 was designated for the European bidders, the representative ExCo members were equally split, leaving four members each from 2018 and 2022 bid nations, a circumstance that practically invited vote-trading partnerships.  (pg 313 and 331)

A suspected alliance of the Spain/Portugal and Qatar bid teams
to ensure that both bid teams would receive at least 7 votes in the first round
investigation was hampered by the majority of ExCo members refusing to say how they voted, because it was a secret

The Times reported collusion on Sep-22-2010 based on a secretly recorded conversation with former FIFA official Michel Zen-Ruffinen who later retracted the statement.
On Oct-18-2020 Secretary-General Valcke referred the allegations to

Chris Eaton, head of Security

On Oct-31-2020 Eaton reported to Valcke that "there was no hard evidence proving or disproving the allegations". However, his investigation consisted only of tracking relevant media articles and speaking to one journalist about his sources. Since he was not the investigative arm of the ethics committee, he did no real investigating (pg 316).

Claudio Sulser, then Chair of the FIFA Ethics Committee

Sulser accepted Eaton's results, and the Ethics Committee did no real investigation of its own
On Nov-18-2010 the Ethics Committee closed the investigation "for lack of substantial evidence." (pg 316)

However, 3 FIFA officials told the Investigatory Chamber that they heard statements of collusion, e.g.

Sunil Gulati said that Mr. Villar Llona "told me he was going to vote for Qatar because Bin Hammam was going to vote for Spain," and that Mr. Villar Llona "didn't vote for Qatar because he thought they would be the best country in the world to host the tournament. He voted for them because he had an agreement that he would support them as long as they brought votes to him." (pg 319)
The Spanish bid team basically did not cooperate with the Adjudicatory Chamber as mentioned above regarding Villar Llona

Evidence of Spain and Qatar relationship

Qatari 5 year sponsorship of FC Barcelona announced after the vote
Starting in Oct-2009, Qatari Investment Authority (QIA) met with Real Madrid regarding the development of a theme park, but this did not go forward
ExCo entitlement
"Many of the flaws in the bidding process this Report identified were traceable to an Executive Committee culture of expectation and entitlement. When traveling with first-class accommodations and VVIP treatment whether on FIFA business or not, when requesting or being offered personal favors or benefits such as "football development" funds, or when asked to fulfill ethical obligations to contribute to the Investigatory Chamber's efforts to establish the facts of the case, a number of Executive Committee members displayed a disregard for ethical guidelines and an attitude that the rules do not apply to them. " (pg 331)
The ExCo members appeared to feel that the bid rules applied to the bid teams but not to the ExCo. (pg 339)

a list of the 24 ExCo members and how they voted if known is on pp 351-352.
Sepp Blatter
While Blatter made some changes to the handling of ethics concerns, which enabled the creation of the Garcia Report, Blatter must be held partially responsible for the ethical failures.
"The lack of any record of formal debate by the Executive Committee concerning the merits—or shortcomings—of the various bids must be put at least in part to his account. So, too, must FIFA's opaque approach, following the vote, to deciding the timing of the 2022 World Cup." (pg 337)
After all the controversies in Oct-2010, in a Nov-30-2010 Finance Committee meeting, Bladd proposed that each ExCo member receive a USD $200K bonus, including the 2 banned members Amos Adamu and Reynald Temarii (pg 338).

This left 22 ExCo members present to vote on the bids; winner was determined by a majority
Consultants
Consultants felt that they were not part of the bid teams, were not subject to the bid rules, and did not have to respond to nor appear for testimony to the Adjudicatory Chamber.
Conclusion – the corruption never stops at FIFA
The Garcia Report issued a number of recommendations (pp 343-350)
I stopped at page 361, where reports on Russia 2018 and USA 2018 are included. Michael Garcia recused himself from the Russia investigation. The Russia report was submitted by his deputy chairman Dr Cornel Borbély. I only read the conclusion, but since Russia claimed that all their computers had been leased, returned and destroyed, the committee had limited records. Also, access to the bid committee's gmail accounts was not obtained.
Since it has taken me 4 weeks to get this far, I stop my summary here. Even if the Russian bid were run by corrupt means, WC 2018 turned out to be the best WC yet, and USA corporations and government were pretty anti-corruption until the 2016 election of #NotMyPresident. Maybe I will finish The Garcia Report after WC 2022 in Qatar.
Note that a recent podcast by Football Today points out that Gianni Infantino uses the Ethics Committee to ban people who could oppose him. My research found 2 such timely bans: Korea's Chung Mong-joon and possibly even Harold Mayne-Nicholls. Even new charges against Sepp Blatter regarding the FIFA Museum could have been orchestrated to keep Sepp out of FIFA (his ban expires in 2022).
I have to assume that the reason journalists wrote "there was no smoking gun" was because they did not have the energy to read the whole report (the report would have benefited from better editing). The media published their assessments almost the same day as the document was released. Maybe they just skipped to the conclusions. Unfortunately, the conclusions are scattered throughout the document and the bullets are often buried in the details. You just can't read and digest the document in 1-2 days. I was exhausted after a month!
I hope all fans of soccer, who would like to eliminate FIFA's corrupt practices, will read the full Garcia Report, or at least internalize my notes. Here is a screenshot of the outcomes of the corrupt people in the Report, as of Dec-2020.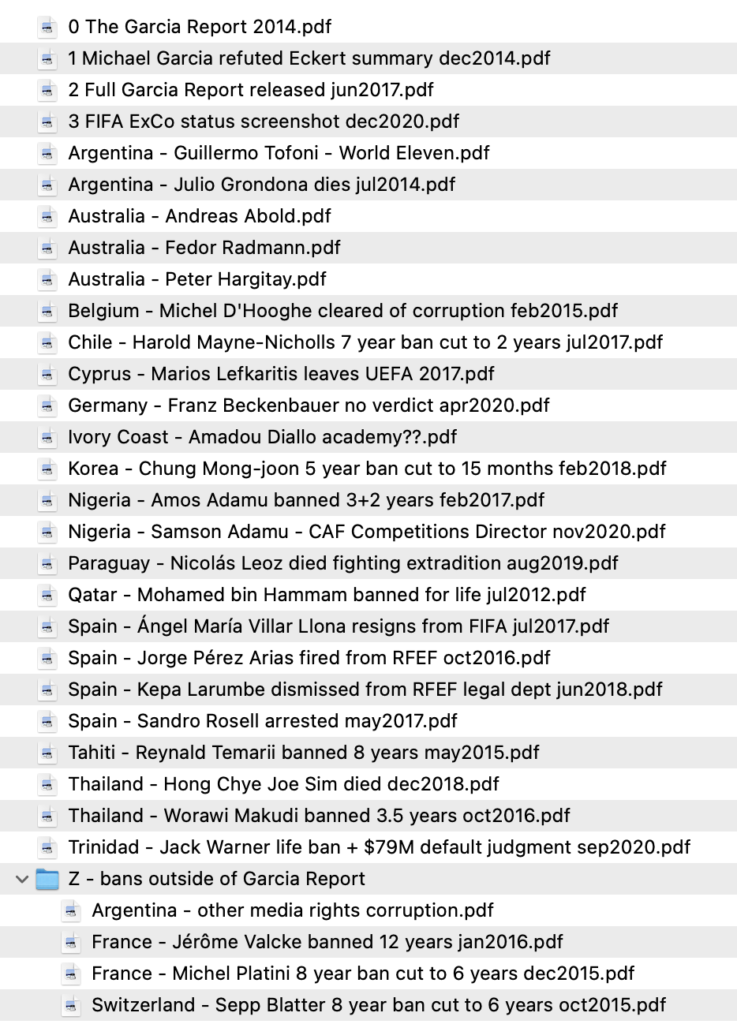 To help find this post:

SoccerMovieMom's Garcia Report for Dummies
SoccerMovieMom's Cliff Notes for the Garcia Report
SoccerMovieMom's Readers Digest of the Garcia Report