The Apple TV+ series Ted Lasso has had such a cultural impact, it calls for a separate review for its second season. Season One arrived as an antidote to a toxic presidency and a worldwide pandemic. Coach Ted Lasso was quoted from the pulpit of my local Presbyterian church, in whose congregation almost no one follows soccer.
The feel good series was well-rewarded with 20 Emmy nominations and 7 wins including Outstanding Comedy Series of 2020.
Of course, all that success creates a lot of expectations and pressure. Even the Season 2 trailer uses the Queen and David Bowie song "Under Pressure". Frankly, Ted Lasso is the only reason I have an Apple TV+ subscription. How does the writing room keep viewers coming back and continuing their subscriptions?
A nation turns its lonely eyes to you
Like a second act, Season 2 goes way beyond the fish out of water story of Coach Lasso and instead develops the characters of everyone else in the dressing room and front office. In weaving these stories, there is more melodrama than comedy.
Hubby and I waited until all the episodes were available before streaming one episode each night. Most nights, we found that instead of a smile on our faces before bedtime, we often felt disquietude. Instead of feeling good, we felt slightly disturbed, as though the Ted Lasso gyroscope were spinning slower, slightly out of whack, tilting, and about to fall off its spindle. Where have you gone, Ted Lasso? Woo, woo, woo.
The soccer
Surprisingly, there are more football tropes and more real football in this season. Since Season 1 was shot before the pandemic, and Season 2 was shot during, I assume that football pitches and stadiums were more available for filming. That the series was filmed at all during England's worst period with the pandemic is actually mind-blowing. The ups and downs would be a worthwhile documentary by itself.
Often, it was the football scenes that made me laugh or made me feel better connected, such as: the fans given access to the AFC Richmond pitch. Dani Rojas kicking an Olimpico. The Richmond captain giving a teammate a haircut. The Dutch defender making outlandishly truthful statements on team performance. Even seeing the team photo in Twitter was heart-warming.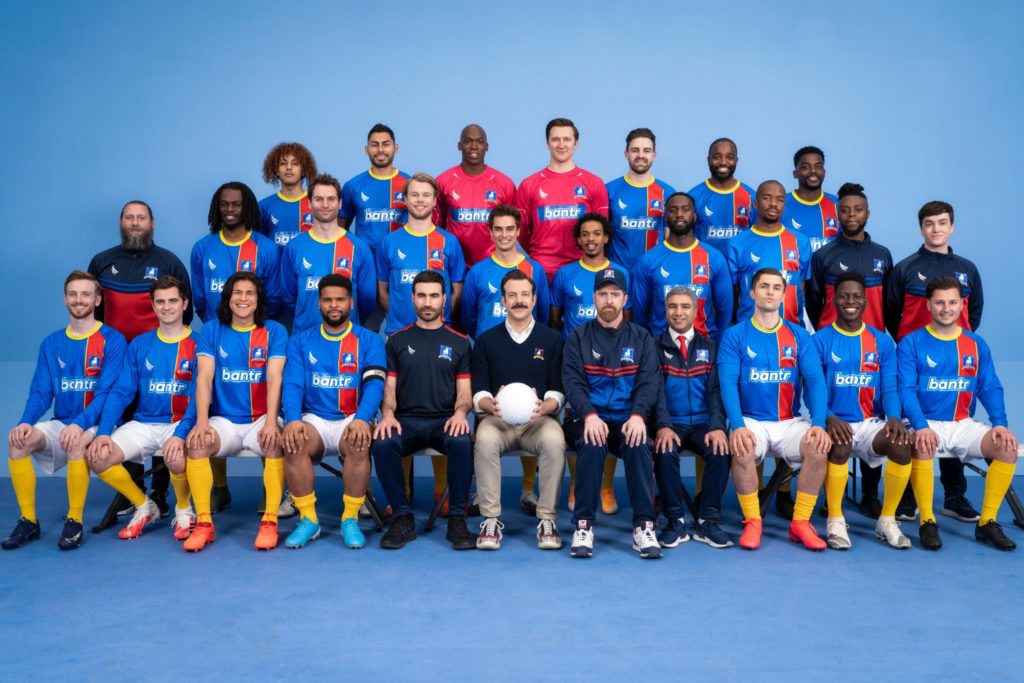 Season 2 also has cameos by many real people around the Premier League, such as referee Mike Dean, broadcaster Arlo White, Thierry Henry, Gary Lineker, and various pundits that I couldn't identify.
The character arcs
In a nutshell with total spoilers, here's what happens in Season 2:
There are also sprinkles or hints of more stories with newer or minor characters such as Nigerian player Sam Obisanya (Toheeb Jimoh) and Will the new kitman (Charlie Hiscock).
Conclusion
From a cultural point of view, perhaps the value of Season 2's overall storyline is addressing mental health, therapy and relationships. Although, it is unfortunate that the sports psychologist is too often pictured as in it for the money. Regardless, it seems pretty clear that a skilled psychologist can help you win promotion to the Premier League. 😀
The developers have claimed that Ted Lasso is only planned to run for 3 seasons. If that is true, then perhaps Season 2 was meant to launch myriad stories and then figure out which ones blossom in Season 3. Certainly it seemed like Ted and Rebecca only advanced one aspect of their characters (anxiety and romance, respectively), while viewers learned a lot more about Roy Kent, Keeley, Nate, and the rest.
I am sure there is still a lot of pressure on the Ted Lasso staff. Will they return to being a positive force in a still negative world? Since AFC Richmond is back in the Premier League and since Apple has done a big deal with the EPL, I assume we will see more real people, logos, stadiums, footage, etc in Season 3. Will the writers bravely address the sportswashing of Newcastle's murderous Saudi ownership? Could be worth another Emmy!
Either way, I look forward to Season 3.
8 Soccer Movie Mom Rating = 8
Resources:
Released: 2021-07-23 (Apple TV+)
Directors: Ezra Edelman (episode 3) , Erica Denton (5,6) , Matt Lipsey (7,8) , Sam Jones (9) , Declan Lowney (1,2,4,12) , MJ Delaney (10,11)
Stars: Jason Sudeikis , Brendan Hunt , Hannah Waddingham , Brett Goldstein