Update on Aug-21-2023:
Well, it's all over. The greatest World Cup we have yet seen. So much drama, such fan enthusiasm, the incredible FRA vs AUS 20-player shootout. So many suprises. You never knew who was going to win. Never.
Spain won in a show of mastery over England on the field. But sadly, the sexism of their Federation's leadership was subsequently shown in an embarrassing display of sexist behavior at the awards ceremony. What can I say but that, I hope over the next 4 years that Spain's WNT rises to the occasion off the pitch as well as on and keeps fighting for equality, not just for better conditions for a few women.
To the Lionesses, I am very sad but hope they recover soon and keep making big statements. England deserves some good news. Silver is good news, but not the news their country hoped for. As Christine Sinclair said in her memoir, on the podium the Gold and Bronze medalists are both happy because they both won their last games. But the Silver medalists are always crying.
So I'm crying a little too. Basically, every team I cheered for, lost. Good thing I wasn't betting any money; I only lost sleep.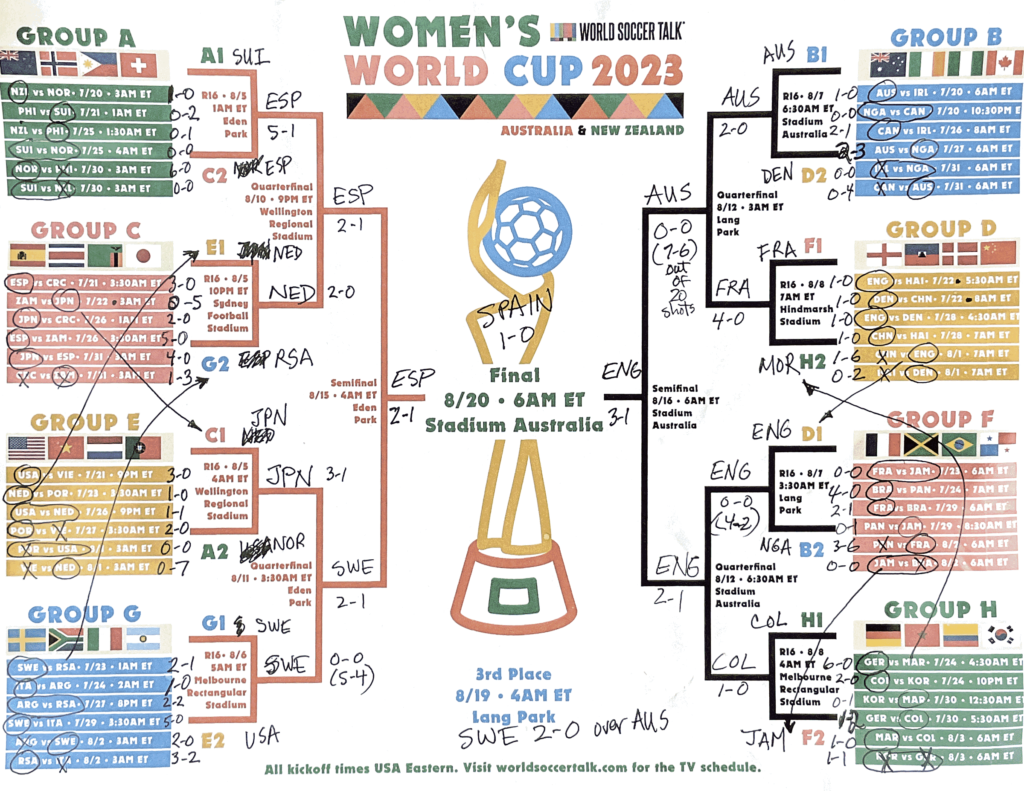 ---
The 2023 Womens World Cup is off and running in New Zealand and Australia. Although I am on the West Coast of the USA, I have been watching parts of the games live between midnight and 5:00 AM. I probably can't keep that up though, so I finally acquiesced to watching the replays on Peacock in Spanish. Good exercise for my aging brain.
But truly, I've been frustrated by the lack of good summary coverage in the media. You know, so that I can scan the news articles and decide which game to watch or which part of which game to watch.
But nada. Very little. I reached out to some fellow fans and got a few recommendations on where to go for Womens World Cup daily news. For my quick-scan purposes, a podcast doesn't help, but I've included those references here.
Newspapers and newsletters
The New York Times
Brief daily NY Times recaps here
A summary of the schedule and the scores is here
Also have human interest stories
may have to subscribe for some content
I am receiving the NY Times Daily Worlds Cup Briefing

which is excellent and I'd like to tell you how to subscribe to it, but I can't figure it out.

BTW, I was really disappointed to realize that The Athletic is not providing daily coverage, just USWNT coverage. The Athletic is owned by the NY Times. I don't even know where to find Meg Linehan's stuff, as I am no longer on Twitter.
The Equalizer
The Equalizer's Womens World Cup page is here
Brief but more technical descriptions of play and key moments
leverages other sources like twitter
have to subscribe to Extra to see all the articles
The Guardian
Time
Podcasts
Women's World Cup Daily reviews
Ryan Bailey, Taylor Rockwell, Graham Ruthven, and Joe Lowery
45-72 mins of serious soccer analysis with humor and personality
Update on Aug-21-2023: Wow, TTS was terrific. Every game, they gave me a better understandgin of what each team was doing and why it worked or didn't work. And so entertaining too. Great pod! They were the only pod I listened to for WWC coverage.
The Offside Rule podcast
Offside Rule World Cup Daily
Kait Borsay, Lynsey Hooper and friends
About 30 mins
More like a news show with a lot of briefly covered topics and hot takes
The Athletic ended the weekly podcast back in Feb-2023
Brendan Hunt and Rebecca Lowe resume a semiweekly show of 30-40 mins on the World Cup, in this case the Womens World Cup.
Diaspora United Podcast
A podcast that centers and celebrates Black women in the global game
Thank you to Cooligans Gully Squad members Lura McCoy, Emily Gerdes, and Val Paschall for your suggestions!
One last complaint
So far, now that every team has played one game, I can safely conclude that the level of refereeing is not high enough. It appears there are not enough skilled referees from around the world to staff this many games.
The Moroccan referee who managed the USA-Vietnam game was extremely poor. The Mexican referee in France-Jamaica was consistently 30 yards from play in the 1st half. The 2nd yellow that she gave to Jamaican captain Khadija Shaw unfairly suspended her from the next game. I assume the referee was influenced by Wendie Renard's Neymar roll, probably because the ref was too far away.
OTOH, I am seeing a pattern where the referees are not adequately protecting the players, leading to injuries. I think this could get even worse as the tournament progresses, as the big countries with the better chances of advancing also have the better referees. These refs however cannot advance to the semis with their countries. Which leaves a lot of room for lesser referees to get assigned even if they aren't up to the task.
Update on Aug-21-2023: I'm leaving this section here, more for my memory. But the refereeing really improved after about the first 20-30% of the group games were played. Whew! And American Tori Penso did a great job in the semis and final. I'm pretty sure she's the first American to center a World Cup Final. Go USA!