In the big battle for your streaming attention, Amazon Prime has licensed quite a few independent international movies related to football (soccer). I find less than half of these foreign films are OK, and the rest can be quite laborious to watch.
Rather than bail water in a sinking ship, I don't want to spend a few hours researching and reviewing a film that's not worth my time. Instead, I am going to just list those films here, in alphabetical order. I will update this post as other films arrive on Amazon.
Everybody's Second Team (2019)
Everybody's Second Team refers to West Ham United. This film has interviews of past players interspersed with animations that represent news or the environment of the time. The Director is Jay Stratford of Canning Town Len Films, but I wonder if his name is a pseudonym. I tried to watch this movie, but since I am not a West Ham fan I just couldn't get past the first 15 minutes. Watch the Trailer and you'll understand what I'm saying. Not in IMDB. SoccerMovieMom Rating = 3 for effort.
This feature film by Director Louis de Witt, was one of the first South African films to feature an all-black cast. After a short run, it was banned under Apartheid, the footage almost lost, and then restored in 2013. Leveraging the popular movies of that time, the film has a James Bond-ish sound track and a Bruce Lee-ish hero. Many reviews reference the movie Shaft, but to me Joe is more like a classic Bruce Lee in that he is not interested in sex and largely kills gangsters with his bare hands.
The story is a bit wacky; in the few days before a league championship game, footballers are threatened, bombed, and the trainer is stabbed to death in the locker room. Joe is summoned to help even though, as one footballer points out, it is only Joe against an entire gang. The only way to enjoy this film is to first read The Guardian's excellent article on South Africa's program in ~1974-1989 to create movies that would entertain black people, make money, and provide moral lessons. A historical context mitigates the rather nonsensical story. SoccerMovieMom Rating = 4. Watch the Trailer
Also known as Delibab, this feature film from Director Szabolcs Hajdu is about a black footballer (Isaach de Bankolé) who takes a bribe in a game and travels to a remote Hungarian farm to hide out with his ball stuffed with cash. However, the farm is really a forced labor camp run by a gang, and leaving is not at his option. He needs a little help to shoot his way out with ball in hand.
There is no football in this film, the footballer has only one expression, and everyone moves at a slow walk. The most astonishing part of this film is that actor Isaach was around 57 years old when he filmed this; the guy was in great shape. SoccerMovieMom Rating = 2. Watch the Trailer
Neighbors (2012)
Chilevisión seems to be proficient at producing slightly racy TV fare related to soccer. Neighbors is what happens when a Chilean football star and his blond bombshell wife move next door to an unemployed but randy Lulo, who services the neighborhood in more ways than one. It is a silly but arousing sex farce with nudity but no soccer in it. Director Sebastian Araya also directed Barras Bravas and worked on Lady Fútbol. Perhaps sex comedy is his real niche. SoccerMovieMom Rating = 5.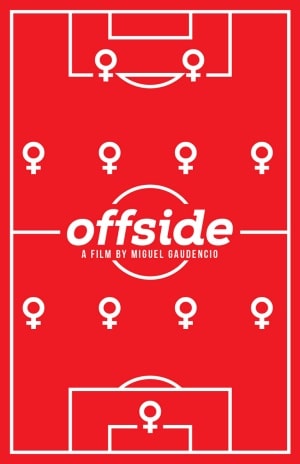 Portuguese Director Miguel Gaudêncio created this black and white documentary that follows the 2018 pre-season practices of Olimpia Szczecin, a Polish womens team. Although the director's CV says that he has made hundreds of music videos as well as commercials, this documentary seems to be a lot of practice sessions strung together with a little bit of game footage, and a little bit of voice over by the male team administrator who explains how he got his job. I couldn't find much information on the team and whether or not they are a recreational team, as the players do not look very talented or fit. Definitely not worth 1 hour and 41 minutes of your time. SoccerMovieMom Rating = 1.
This is a Christian film from Director Darla Rae. I tried to watch it, but it is so poorly done, and the acting so miserable, that I couldn't get past the first 10 minutes. Sorry about that. SoccerMovieMom Rating = 3. Watch the Trailer